We can get you online fast, so that your customer can find you and start learning more about your business.
WordPress starts at $3450
We can take a design or mockup that you already have and turn it into a fully functioning website.
WordPress Hosting Migration
Need to switch WordPress hosting providers? Sometimes it's a good idea if you have latency issues that are server related, if the server often goes down, or if you find a better price elsewhere.
Existing Website Re-design
Have a website already but want to change it up or make it easier to update? We can do that!
Search Engine Optimization (SEO)
If you built your website yourself, you may not be getting found on search engines like Google and Bing. Let us do a quick review of your website, and get you up and running and findable online, organically!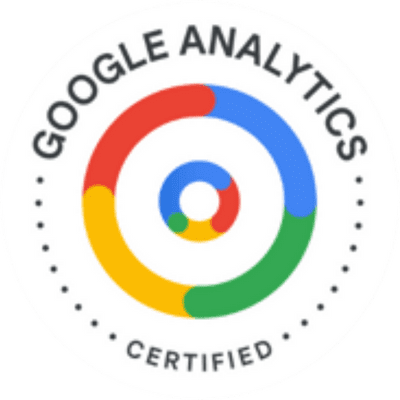 Ensure that your website is properly set up to track user behavior and conversions. I am Google Analytics Certified!
We're here for you! You never have to feel alone, even if you are DIYing your website. We can get on a call with you and walk you through anything that you need – SEO, mobile-friendly design, ADA compliance – you name it!
This is perfect for those who built their own website or are in the process of doing so, who need some help getting it perfected, cleaned up, mobile-friendly, or help working on your on-page SEO.
This service is a 60-minute video chat to discuss anything you want to know involving your website. The call is 100% led by you which allows you to ask questions, have me make changes, or help with really anything else on your website or online presence in general. Domains, hosting, analytics, SEO, Google My Business, etc. are all fair game for this call!
During the call, we'll go over any questions that you have first, and give you advice and tips for you to implement on your own. You can also decide if you'd like the call to be a "working session" where you share your screen and I can walk you through your specific questions in relation to your website. After our video chat, you'll receive a recording that you can watch at any time after as well.
DIY Coaching is $155 per hour
Let us show you how to use your new website and how to make simple updates on your own to things like your menu, today's specials, etc.
After our video chat and screen share, you'll receive a recording that you can watch at any time after as well.
This is meant for customers that we have worked with previously and have already had a hand in working on the website.
Remote one-hour sessions are $135 per hour
Casey was extremely helpful with updating my SEO for my website. Not only did she makes changes with my SEO but she helped make sure my website was looking the best that it can be. She was so helpful, patient and explained things so they were easy to understand.
Briarpatch Children's Boutique
Casey was a HUGE help with starting up my website! She was easy to work with, reliable, and professional. She gave me a review of the work I'd done, told me what I'd done right, what needed tweaking, and did it all in plain enough English that I could really understand! I couldn't have asked for anything more.
All pricing is subject to change at any time. Contact us for an official cost estimate.
Pricing often increase each year for services.